After important events such as Black Friday and World Cup, this is the moment for companies to prepare for Christmas' Campaigns. And, of course, to prolong sales it's necessary to keep investing in marketing strategy, with the creation of campaigns and content.
In 2021, e-commerce grossed R$ 4.5 during Christmas Period - which represented a growth of 21% in comparison with the previous year. Besides, more than 9 million orders were registered, a number 14% larger than 2021, according to data from NielsenIQ Bit.
With that, it is not the time to slow down. Instead, it's time to raise the efforts to keep a good profit margin. So, to help you understand what has to be done, we prepared this article so you will know:
Consumer behaviors during Christmas period

Marketing actions that should be done on Christmas

Helpful tools for your marketing strategies
Follow this article to the end and find out what your company needs to keep seizing the opportunities of a market that remains heated past Black Friday and World Cup.
What are the behaviors of Christmas' consumers
Christmas sales this year are expected to gross more than 12.6 billion dollars, according to a research done by the National Confederation of Stores Management and The Service for the protection of credit.
Sales during the period should drive over 118 million consumers to buy. Also, 73% have the intention to gift other people during Christmas this year. The items that are the most sought out should be:
Clothing (57%)

Shoes (38%)

Perfumes/Cosmetics (36%)

Toys(34%)
Even so, despite your company's segment, it is necessary to think in actions that aim to obtain positive results.
Which marketing actions should be done during Christmas
Even after the World Cup and Black Friday, sales should remain hot in the market with the arrival of the Christmas period. After all, gifting is something that most people like doing.
Many people also take the opportunity in the period for building and renewing. That's why, the construction sector should be prepared for an increase in searches for equipments, tools and supplies in general.
And so, with an objective of capturing new leads (possible clients) and closing deals online it is absolutely needed to invest in some marketing actions. Here are a few of them:
Preparing your online display: your website
Your business website needs to be prepared to receive leads and reach its online sales potential. It is your company's display, since contained within it is the information that users need (products, services, content, contact, etc).
For this reason, to improve user experience is a must to guarantee that your website has good browsing capabilities, has easy to reach and clear information and it's adapted to mobile.
Creating Landing Pages / exiting pop-ups to generate leads
Lead generation is the peak of digital campaigns. This is a way to raise sales chances and to have a good base to send marketing emails when you have new offers and also to maintain a closer relationship with your leads. That's why, an alternative is to create a landing page customized for christmas or exiting pop-ups.
It is important to remember that, in exchange for the lead's email, you must offer something in return: like a discount coupon, a free download of some rich content…
Preparation for the mail marketing triggering
Once the landing page, pop-ups or forms have been created in your website, you will obtain a leads base. So, what to do with them? It is in this moment that email marketing comes in.
This media is ideal to strengthen the relationship with possible and existing customers. That's why, you can send them exclusive offers, discount coupons, newsletters and content that might interest them.
In order to obtain good opening and conversation rates, the call needs to contain triggers that will get people's attention.
Investing in performance marketing
One of performance marketing's actions is paid media, online advertisement or paid traffic, however you want to call it. This is a way to raise brand awareness, reach more people and improve the chances of sales conversion. After all, during christmas period there are lots of competition, especially in sales.
However, to obtain the desired output it's necessary to know the business persona, do a good segmentation and the necessary setup so the ads reach the right target.
Besides, data will be made available for analysis and further optimization in the campaigns, improving performance. In the future, this data will also help the creation of new strategies.
Social media content creation
Social media helps strengthen public relationships on top of being a communication and information channel. For that reason, it needs to be updated. Visual identity is also interesting in this media, with elements that evokes Christmas. Bear in mind that the content should be adapted for each social media.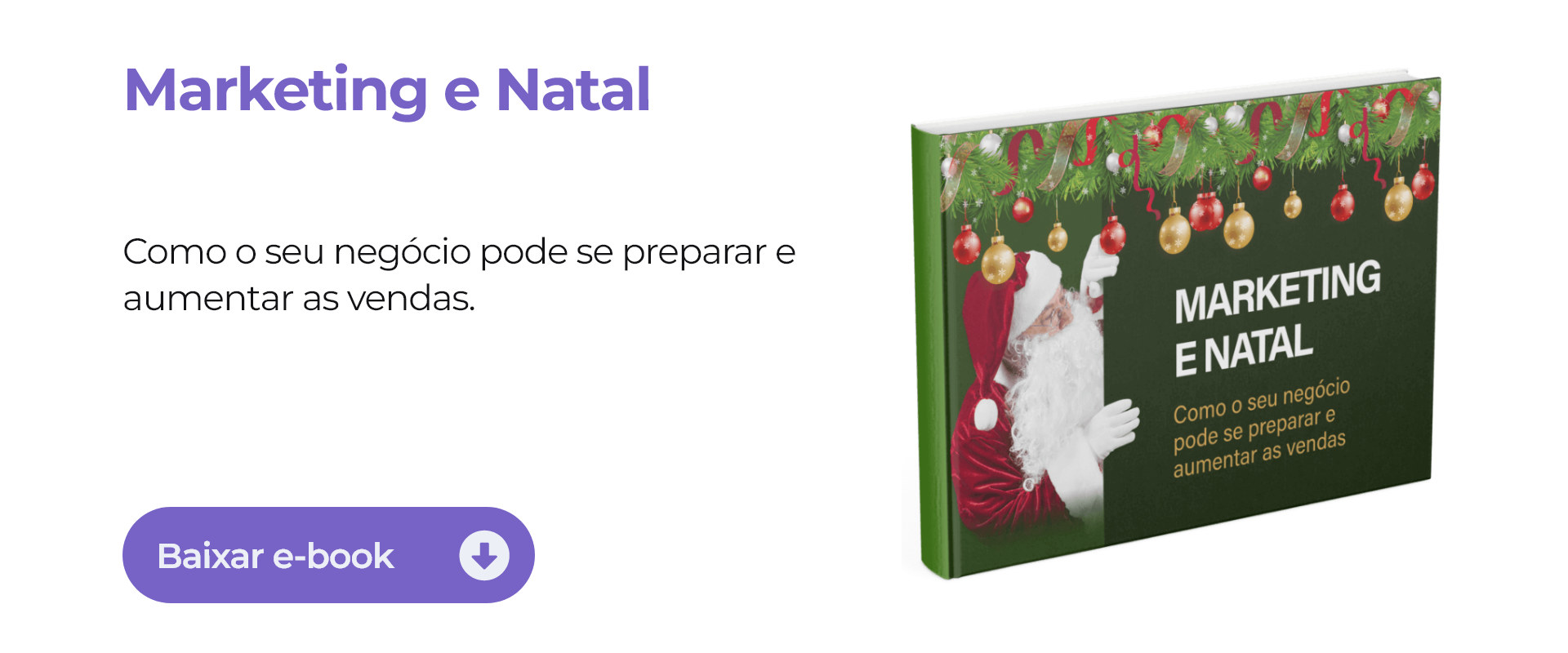 Which tools can help with marketing strategies
Algumas ferramentas digitais são importantes para as estratégias de marketing, principalmente quando se deseja aumentar vendas e a visibilidade do negócio online. Veja quais são!
WhatsApp Business
With WhatsApp Business it is possible to have:
More agile communication: normally, users get in contact through a link in social media, adding the company's number in their contact list. When the client sends the first message, businesses can use the "Auto Message" option to welcome the customer and initiate the conversation.

Organizing the responses: this way, it becomes easier to provide a customized conversation with each person. A potential client, which means: those who are really interested in doing business with you, deserves more attention from the vendor. It is also possible to initiate and end the conversation in those cases where the person is only looking for clarifications.

To receive feedback: with the app it's also easier to receive feedback and send Satisfaction Survey links. This is a way to evaluate what needs to be improved and what's working well.

Offer centralized information: the tool allows you to put the main information about your business, just as working hours, which in turn makes it easier for the user to access this information anytime.
Google Meu Negócio
In Google My Bussines it's possible to register the company's commercial name, address, phone number, working hours, payment options and other information about the business.
During the Christmas period, to activate this tool is essential so people can easily find your business in the virtual environment. Through My Business it's possible to:
Interact with clients: users can review your business on Google, which allows you to respond to comments. Ano important feature is to add photos to the tool.

Gain more confidence and clicks: businesses that keep their information updated on Google my business have twice as many chances of being considered reliable by consumers, according to Google itself.

Access to metrics: the tool gives access to data about how clients are searching for your business and where they are coming from. Besides, it is possible to to know the number of people that called your company using the phone number shown in the results from Google Maps searches and where they're from. Other data you can find is how many people saw your company on Google and how many asked for directions on how to get there. Through this information, it is possible to make improvements in your marketing strategy.
Conclusion
Throughout this article you understood the importance of following the heated pace of the virtual market during the periods past Black Friday and World Cup, especially with the arrival of Christmas. For that, it is necessary to continue investing in marketing action, with ADS campaigns and content creation.
To reach the final objective, which is to boost sales, you need a company that has a result focused method and that also has a team of skilled professionals. Talk to our specialists to start a successful partnership. Your business from zero to top on digital. Follow us on social media, Instagram, Facebook and LinkedIn to keep up to date with other content.